HSA Team Member Spotlight: Jon Boley
March 4, 2013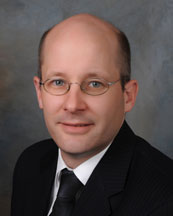 In this edition of the HSA Team Member Spotlight, we talk with Jon Boley, vice president of development and acquisitions with HSA PrimeCare. In his role at HSA PrimeCare, Jon is responsible for sourcing, underwriting and closing medical facility developments and acquisitions, as well as providing market and financial analysis, risk analysis, asset evaluations and related economic modeling for PrimeCare's clients and healthcare real estate portfolio as well as for prospective medical office transactions.
HSA: Having completed recent acquisitions in Ann Arbor, MI and Muskego, WI, what aspects of those facilities would you say were compelling for PrimeCare?
Boley: Last year, we targeted both Michigan and southeast Wisconsin as growth markets for the PrimeCare. Though we're always looking for investment and development opportunities throughout the country, the Big 10 states are our primary focus, because we understand the markets well and the proximity to Chicago allows us to deliver our service platform better. Muskego is an outpatient facility that is fully-leased to Aurora Health Care and acts as a critical feeder to generate referrals for the hospital system. Ann Arbor is an on-campus orthopedic specialty building that is anchored by St. Joseph Mercy Health System, a part of Trinity Health, one of the largest health care providers in the country. In both cases, these properties were occupied by strong hospital systems with considerable market share that saw the facilities as being strategically valuable for their platform of patient services. The hospital partner and its mission are always very important to us as we consider an investment opportunity.
HSA: How have changes in health care affected PrimeCare's acquisition strategy?
Boley: As a result of health care reform, many physicians groups are now being acquired by the major hospital systems, which from a real estate perspective, means that the pool of prospective tenants is shrinking. The old medical office building model of a hospital anchor with a dozen 2,000 to 5,000 square foot physician suites doesn't really suit the current health care environment, and those buildings will be really challenged to lease their small office space as hospital systems continue to consolidate the marketplace.
HSA: If the old medical office building model is obsolete, then what will the health care facility of the future look like?
Boley: We are actually currently embarking on a "listening tour" with our health care partners to engage with them in a discussion about that exact question. We are exploring the ways in which we can meet their evolving operational needs through real estate and facility design. Technology has allowed more procedures to be performed in an outpatient setting, and so we expect to see big growth in outpatient services. Also, the health care providers have found that patients appreciate the convenience and comfort of the outpatient health care model, and it's often more cost effective to deliver these services outside of the hospital setting.
Many hospital systems are also moving toward a multi-specialty building model in which there is a common lobby and reception area for various physicians that share procedure and exam rooms based on flexible practice hours. This allows the hospital to accommodate numerous physician practices while efficiently pooling administrative and real estate resources. This model requires a certain type of floorplate with offset core areas instead of a central core where it would have historically served several small office suites with dedicated reception areas throughout the building. As we are reviewing acquisition opportunities for our portfolio, a key concern is whether or not the floorplate and technological infrastructure is flexible to adapt to the new operational requirements.
---
Mr. Boley has a Bachelor's degree in Economics from Michigan State University. Jon has also received a Master's of Science in Social Policy degree from the London School of Economics and a Master's in Business Administration from the Helsinki School of Economics.
HSA News & Listings Alerts
Join the email list for updates and new listings.