HSA Team Member Spotlight: Margaret Gaca
January 15, 2013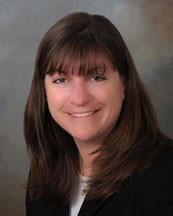 In this edition of the HSA Team Member Spotlight, we talk with Margaret Gaca, senior property manager with HSA Commercial. In her role with HSA, Margaret works primarily with the firm's health care properties coordinating with tenants like Advocate Health Care, Silver Cross Hospital, Ingalls Health System, and numerous physician practices in the management of building operations, implementation of tenant relations programs, facilities budgeting and forecasting, and the supervision of accounting and financial control of the properties.
HSA: The PrimeCare team recently received The Outstanding Building of the Year award from BOMA for the development and management of the Silver Cross Health Center. Why do you think BOMA chose to recognize that facility and your efforts there?
Gaca: The Silver Cross MOB was the first building on-site at the Silver Cross Hospital replacement campus in New Lenox. Building and operating that facility for two years at the highest standards really helped to bring activity to the new campus that pioneered the continuing development that has had such a huge impact on the community. Our team partnered with the hospital to strategically create a tenant mix of three leading health care groups-Children's Memorial Hospital, Silver Cross Women's Health Center, and Hinsdale Orthopaedics-that provide valuable services which the community really needed. Also, our facility is equipped with state-of-the-art technological infrastructure such as a direct digital control HVAC system; energy-efficient lighting systems; a state of the art security and camera system, modern flooring/finishes; all the way down to the hands-free paper towel, soap, and sanitizer dispensers in the restrooms. The community impact and quality of materials combined with our management team's ability and dedication to providing top-notch service at a moments' notice all within budget for our owners allowed us to meet and succeed in all objectives at this location and helped us to earn this honor.
HSA: How much has the evolution in technology affected your duties as a property manager?
Gaca: Since we built our first medical office building in 2001 in Lemont, the technology has really changed by leaps and bounds, and we have had to learn, adapt and grow with those changes along the way. Even now, we're continuing to learn because what may be state-of-the-art today may not be tomorrow, and we are always looking forward to ensure that our facilities are on the forefront of new changes. There are a variety of new technologies from the HVAC systems being able to control individual rooms and spaces while operating efficiently by knowing when the space is occupied or unoccupied as well as being able to view and make changes to the system remotely to computer controlled lighting which can be programmed for each individual room in the suite and replacing the standard light switch. But it's not just HVAC and lighting, it's things like not needing maintenance staff to unlock the building; being able to view the security cameras remotely; wireless communication directly with local fire departments; smartphones where management and maintenance can communicate effectively with email and texting for work orders and immediate issues; providing options for internet and phones from ATT to T1's to fiber to alternate sources such as Comcast which provides internet/phone and television/cable options to tenants; providing digital marketing in our lobbies; and wiring a building to provide good cellular coverage within the facility to address how medical staffs operate today.
HSA: How is managing a health care facility different than other property types?
Gaca: Health care never sleeps. At any given time, day or night, there is always a doctor working in our facilities, and we need to make sure that we are always there for them if they need us. We assist our tenants with everything and anything we possibly can, and we feel that our customer service and dedication to each and every practice is our best asset. We want to ensure that our doctors are focused entirely on their practice and helping their patients instead of worrying about facility or maintenance issues. Working in health care requires us to always be attentive and detail-oriented such that its not just a perception but a reality that the facility is clean and safe. On any given day, the amount of incoming and outgoing patients with specific needs visiting the facility demands this. We strive to ensure that we are delivering and providing the most comfortable and pleasant experience for the patients as possible which is a goal that we share with every health care provider we work with.
---
Prior to becoming involved in health care properties, Margaret previously served as Property Manager of HSA's Chicago Tribune account, responsible for the management of 71 distribution centers comprising over 700,000 square feet. Ms. Gaca began her real estate career in 1997 at Cushman and Wakefield as an Assistant Property Manager of two different portfolios consisting of over 2,000,000 square feet.
HSA News & Listings Alerts
Join the email list for updates and new listings.