John Wilson, President of HSA PrimeCare Joins Bisnow's National Healthcare Series: Midwest Summit
August 6, 2019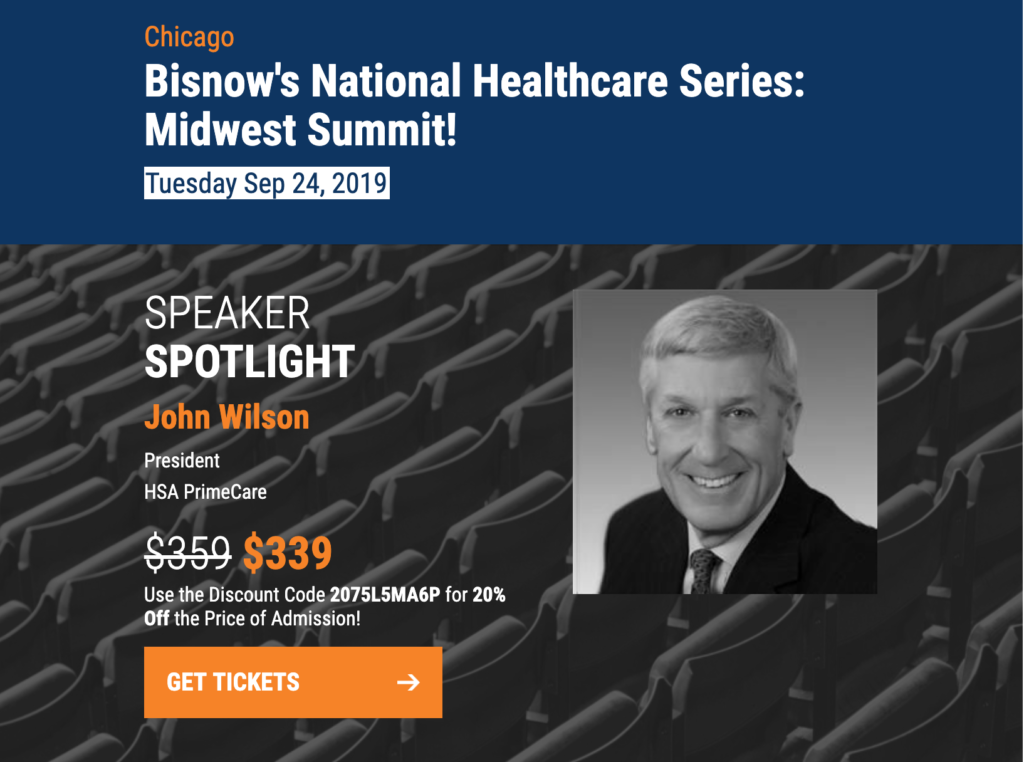 Event Details:
Bisnow National Healthcare Series: Midwest Summit!
Tuesday, September 24, 2019
Radisson Blu Aqua
Event Website
HSA PrimeCare President John Wilson will be a featured panelist at Bisnow's upcoming conference, National Healthcare Series: Midwest Summit. The event is scheduled for September 24th at the Radisson Blu Aqua Hotel and will include an array of esteemed healthcare industry speakers and networking opportunities throughout the day. Bisnow expects approximately 300 attendees consisting of hospital and healthcare professionals, design/build service providers, and real estate developers and investors. Other featured panelists include Karen Teitelbaum, president & CEO of Sinai Health System; A.J. Wilhelmi, president & CEO of Illinois Health and Hospital Association; Dr. Brian Stein, associate chief medical officer at Rush University Medical Center; Michael Becker, senior director of real estate services at Ann & Robert H. Lurie Children's Hospital of Chicago; and Dr. Robert Winn, associate vice chancellor for community-based practice at University of Illinois Cancer Center among many others.
According to Bisnow, the event will start with networking and breakfast at 8:30 am and end with "schmoozing" until 4:00 pm. The morning will consist of a speed networking session and three panels covering topics of policy, public-private partnerships, investment and acquisitions, and wellness. After lunch, attendees will enjoy two panel discussions on the future of healthcare facility design and construction, and Chicago's biomedical innovation district.
No one is better qualified to discuss the comprehensive healthcare real estate development process than John Wilson, whose healthcare real estate expertise has served clients since 1996 when he created HSA PrimeCare, HSA Commercial Real Estate's healthcare real estate advisory initiative. HSA PrimeCare partners with the nation's leading healthcare institutions to create development, project management, leasing, monetization, and property management real estate solutions that address the needs of today's patients while satisfying the financial goals of the health care provider. A leading developer and manager of medical office buildings in the Midwest, HSA PrimeCare is responsible for a portfolio of health care properties in excess of one million square feet in eight states.
For more information or to register for the event, visit the Bisnow event page.
HSA News & Listings Alerts
Join the email list for updates and new listings.